Marrakech Medina: Exploring the Enigmatic Labyrinth
Marrakech, the enchanting city in Morocco, is a destination that has captured the hearts of travelers for centuries. While the entire city boasts its unique charm and allure, it's the ancient Medina, a UNESCO World Heritage site, that truly transports you back in time and allows you to lose yourself in its labyrinthine alleys and vibrant culture. In this blog, we'll take you on a journey through the Medina of Marrakech, revealing its history, the myriad things to do, the unavoidable scams, the different areas within the Medina, and the enchanting riads that await you.
What is a Medina?
The word "medina" is of Arabic origin and refers to the historic, walled city center of many North African cities. It's the heart and soul of these cities, often characterized by narrow, winding streets, bustling souks (markets), and centuries-old architecture. In Marrakech, the Medina is where you'll find the city's most ancient and iconic treasures.
History of the Medina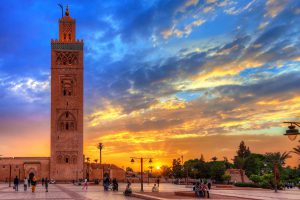 The history of the Marrakech Medina dates back to the 11th century when the city was founded by the Almoravid dynasty. Over the centuries, it has seen the rise and fall of various dynasties, including the Almohads, Merinids, and Saadians, all of whom left their mark on the city. The Medina is a living testament to Morocco's rich history and a hub of cultural exchange, trade, and artistic expression.
Things to Do in the Medina
Shopping: Marrakech's Medina is a shopper's paradise. The souks offer an array of goods, from vibrant textiles and intricate carpets to handmade ceramics and exquisite jewelry. Bargaining is a common practice, so be prepared to haggle for the best deals.
Cafes and Restaurants: The Medina is dotted with charming cafes and restaurants where you can savor traditional Moroccan cuisine. Try a tagine, sip on mint tea, or indulge in pastries like baklava.
Museums: The Medina houses some fascinating museums. The Marrakech Museum and the Maison de la Photographie are must-visits for art and photography enthusiasts, while the Dar Si Said Museum showcases Moroccan craftsmanship and heritage.
Scams in the Medina
While the Medina offers endless delights, it's also known for its share of scams. Beware of overzealous guides who might offer their services without being official guides. You can always recognize an official guide by its badge. Ask for it!
Ensure that you agree to the price before accepting any assistance. Additionally, watch out for the "helpful" shopkeepers who may steer you towards their own shops or persuade you to purchase overpriced items.
And beware of the local people telling you that a street is 'closed' and try to steer you in a different direction.
Different Areas in the Medina
The Medina is divided into several districts, each with its own unique character:
Jemaa el-Fnaa: The bustling central square is a sensory overload. By day, it's a market; by night, it transforms into an open-air food court and entertainment hub.
Koutoubia: Home to the famous Koutoubia Mosque, this area is tranquil and offers beautiful gardens.
Mellah: The old Jewish quarter is a historic district with a distinct atmosphere.
Bab Doukkala: A quieter area that provides a respite from the Medina's intensity.
Kasbah: A more residential area with the Royal Palace and beautiful gardens.
Riads in the Medina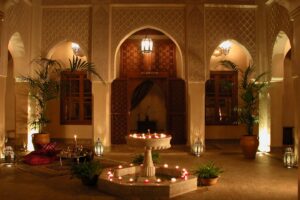 One of the unique features of the Marrakech Medina is the riads. These traditional Moroccan houses are hidden behind unassuming doors but open up to reveal stunning courtyards, lush gardens, and beautiful architecture. Many riads have been converted into boutique hotels, offering a taste of authentic Moroccan living. Staying in a riad is an experience in itself, providing a peaceful oasis amidst the Medina's chaos and highly recommended.
Bargaining in the Marrakech Medina: Mastering the Art of Haggling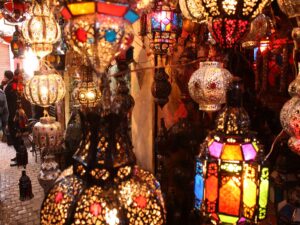 One of the most intriguing aspects of shopping in the Marrakech Medina, and indeed throughout much of Morocco, is the art of bargaining. Bargaining is a customary practice in Moroccan markets or souks, and it's not only a way to secure a better price but also a cultural exchange and a display of your bargaining skills. Here's a guide to mastering the art of haggling in the Medina:
1. Approach with a Smile: Bargaining in the Medina should be a friendly and engaging process. Start by greeting the seller with a warm smile and a friendly "Salam" (hello). This sets a positive tone for your negotiation.
2. Be Prepared to Walk Away: One of the most potent bargaining tools at your disposal is your willingness to walk away. If the price offered is too high and doesn't meet your budget, politely express your gratitude and start to leave. This often prompts the seller to lower their price or call you back to renegotiate.
3. Research and Know the Real Value: Before you start haggling, it's essential to have an idea of what the item you're interested in is truly worth. Ask locals or fellow travelers for an approximate price range so you can determine a fair starting point for your negotiations.
4. Start Low: Begin the negotiation with a price significantly lower than what you're willing to pay. This sets the stage for a back-and-forth exchange. It's common for sellers to counter with a higher price, and from there, the bargaining dance begins.
5. Maintain Politeness: Throughout the bargaining process, always remain polite and respectful. Remember that this is a cultural exchange, and respecting local customs is key. Use phrases like "Shwiya, Shwiya" (a little, a little) to indicate that you want a lower price.
6. Use Non-Verbal Communication: Bargaining isn't just about words; body language and non-verbal cues play a crucial role. You can express doubt, surprise, or even disappointment through your body language. These signals can influence the seller's willingness to compromise.
7. Bundle Your Purchases: If you plan to buy multiple items from the same vendor, consider bundling them together in one negotiation. Sellers may be more inclined to offer a discount when you're buying in bulk.
8. Stay Patient: Bargaining can be time-consuming, but patience is key. It's not uncommon for negotiations to last several minutes. Don't rush the process; enjoy the back-and-forth as part of the experience.
9. Know When to Settle: While haggling is a tradition in Morocco, it's important to recognize when you've reached a fair price. Keep in mind that the goal is not to squeeze every last dirham from the seller but to arrive at a price that both parties find acceptable.
10. : Once you've agreed on a price, it's customary to seal the deal with a handshake or a friendly gesture. This not only shows your appreciation but also brings a sense of closure to the transaction.
Bargaining in the Marrakech Medina is a unique and memorable part of the shopping experience. It's an opportunity to engage with locals, understand their way of life, and walk away with a sense of accomplishment and some fantastic souvenirs. So, embrace the art of haggling, and you'll find that it adds an extra layer of enjoyment to your Medina adventure. Happy shopping!
Exploring the Souks: Unveiling the Heart of Marrakech's Medina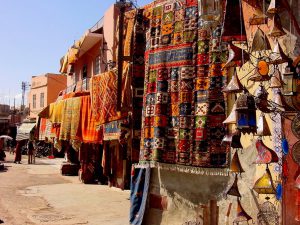 The Marrakech Medina is a treasure trove of culture, history, and experiences, and at its core are the bustling souks, which are the lifeblood of this ancient city. But what are souks, and why are they an integral part of the Medina experience? Here, we'll delve into the world of souks and uncover the magic they bring to Marrakech.
What Are Souks?
Souks, pronounced "sooks," are traditional North African markets, and Marrakech's Medina is renowned for its labyrinthine network of these vibrant marketplaces. These bustling bazaars are where the heart of the city truly comes to life. They are a sensory delight, featuring stalls and shops selling an array of goods, from textiles, ceramics, and spices to handmade crafts, jewelry, and traditional Moroccan clothing.
The Souk Experience
Exploring the souks is like stepping into a different world. Here, you'll find a rich tapestry of colors, textures, and scents. The sounds of craftsmen at work, haggling between buyers and sellers, and the distant call to prayer create a symphony unique to Marrakech.
Types of Souks
Within the Marrakech Medina, you'll find specialized souks, each dedicated to specific products or crafts. Some of the most famous souks include:
1. Spice Souk: A sensory explosion of colors and fragrances, the spice souk entices visitors with aromatic spices and herbs used in traditional Moroccan cooking. A famous spice souk is Place d' Epices.
2. Textile Souk: This is a paradise for fabric enthusiasts, with stalls showcasing intricately woven textiles, carpets, and rugs. Don't forget to bargain for that beautiful Berber (Amazigh) carpet to take home.
3. Metalwork Souk: If you're drawn to metalwork, the souk dedicated to it will dazzle you with an assortment of handcrafted lamps, trays, and jewelry.
4. Leather Souk: Tanners have been producing leather goods here for centuries. You can purchase a range of leather products, from bags to shoes, with the opportunity to see the tanning process up close.
5. Ceramic Souk: Moroccan ceramics are famous for their vibrant designs and intricate patterns. You can find pottery, tiles, and dishes adorned with stunning geometric motifs.
6. Artisanal Souk: This is the place to go for unique, handcrafted items. Skilled artisans offer everything from woodwork and pottery to hand-painted tagines and jewelry.
Navigating the Souks
Navigating the Marrakech Medina's souks can be an adventure in itself. The narrow, winding lanes are often unmarked and can lead to surprising discoveries. While it's easy to get lost, it's also easy to find your way, as each souk is specialized, and vendors will be happy to guide you to their area of expertise.
It's essential to have a sense of direction while exploring the souks. Many travelers use key landmarks, like the Koutoubia Mosque or the main square, Jemaa el-Fnaa, as reference points to avoid becoming too disoriented.
Souk Shopping Tips
1. Bargain: As mentioned earlier, bargaining is a customary practice in the souks. Don't be afraid to haggle for the best prices.
2. Cash is King: Cash is preferred over credit cards in the souks, so make sure to carry enough Moroccan dirhams with you.
3. Respect Customs: Dress modestly and be respectful of the local culture and traditions while exploring the souks.
4. Enjoy the Journey: Getting lost is part of the adventure in the souks. Embrace the experience, and you'll stumble upon hidden gems and unexpected encounters.
In the heart of Marrakech's Medina, the souks create an atmosphere that is unlike any other. It's a place where tradition and modernity coexist, where the senses are awakened, and where you can immerse yourself in the authentic culture of Morocco. So, as you embark on your Marrakech adventure, be sure to explore the enchanting souks and let them guide you through a unique and unforgettable journey.
Getting Lost in the Medina
Getting lost in the Marrakech Medina is almost a rite of passage. The narrow, winding streets can be disorienting, but this is where the real charm lies. It's an opportunity to stumble upon hidden gems, meet friendly locals, and immerse yourself in the essence of Morocco. Just be sure to have a map or GPS on hand to find your way back if needed.
Marrakech's Medina is an enchanting place where the past and present merge seamlessly. As you lose yourself in its labyrinthine alleys, you'll discover the rich history, vibrant culture, and timeless allure that has made it a must-visit destination for travelers from all corners of the globe. While you may encounter a scam or two, the authentic experiences, unique riads, and incredible memories you'll create are well worth the adventure. So, step into the Medina and embark on a journey you'll never forget.