Family at work – a successful fundraiser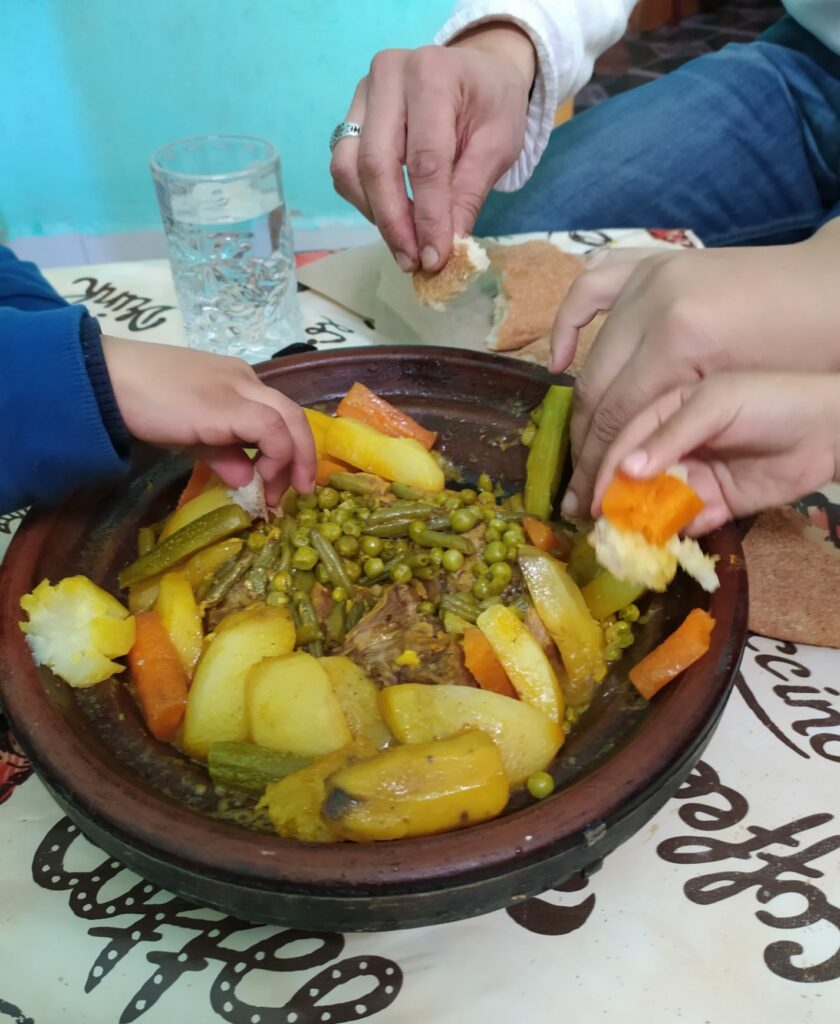 Below is the story of a successful fundraiser. In the form of a spontaneous Facebook action that we carried out last week. This is for a friend's neighbor in Marrakech.
The reactions were so overwhelming that we were able to use the donations – in addition to the basic necessities for the family, and especially the baby – to ensure that this family can provide better for themselves in the future. You can read below how.
Furthermore, in addition to the donations, suggestions, and tips also came in. And it looks like with your help, we can help another family as well. And we're going to receive warm clothes that we can bring to the people in the mountains.
In short; your compassion has really made a difference in the lives of these people, as well as others in Morocco.
January 18, 2022 10:25 PM – cry for help
I received this message tonight from a friend in Marrakech:
——- message from Marrakech
The neighbor's baby is crying. She's been crying a lot lately. She also doesn't sleep through the night any more and the mother looks dead tired. What's going on? Mama tells me that she has not been able to breastfeed for a while, she no longer has milk due to stress and lack of healthy food.
Her husband has been out of work for weeks and the hotel where she herself sometimes works is closed. The six-month-old baby received adjusted baby milk, but they can no longer afford it. So regular cow's milk, diluted with some water. And so the baby is crying because she has colic and diarrhea.
I feel myself stiffen, and freeze completely inside. Mama suffers mentally, the baby suffers physically. Papa considers himself a worthless man. He tries to hire himself out as a day laborer in order to occasionally buy some food. On the days when it doesn't work out, they only sell a part of their already poor household effects. Everyone hopes and waits for the day when the tourists come back, then there will be work again. But how do they survive in the meantime?
———–
And we posted it on Facebook and asked if people were willing to donate to help this family out. This is what happened next with a successful fundraiser:
—————————————-
UPDATE January 19, 2022 8.35 pm – the first help
Dear all, we are a little overwhelmed by all the generous gifts. How very sweet! Below is a new message from our friend; so you know what was done with the money transferred this morning. And money is still coming in (thank you!!!) So we're going to bring that back to the people in the mountains, or other people in Marrakech who can use it well. We will of course keep you informed as best as possible about a successful fundraiser. But first this beautiful story. With photos included
thank you!!!
——— Message from Marrakech
Today was a beautiful day. A lovely day. The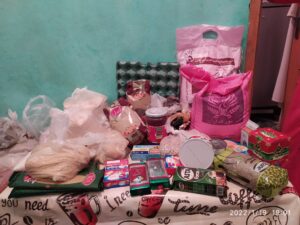 sun was shining but I beamed, even more, when I saw how much help was coming.This morning we took the children to school and then we went straight to the pharmacy to buy baby milk. Immediately six boxes so that the baby gets the right nutrition for a while. The pharmacist promised that we can exchange unopened boxes if for some reason other milk is needed.
Mama laughs and cries at the same time as she takes delivery of the boxes. A heavy burden is visibly lifted from her shoulders. An ointment is also bought for the baby because due to lack of enough fresh diapers and ointment, she has a huge diaper rash. Her buttocks look burnt. But we're going to tackle that now. Two packs of diapers are bought as well as handkerchiefs and baby wipes. The little girl can be looked after again.
Then quickly home and a bottle prepared. That is easy again because the empty gas bottle was exchanged for a full one. The last two days they cooked on a charcoal fire. I think it's a risk with two toddlers in the house. While I'm feeding the baby her bottle, Mom is preparing lunch. With a piece of meat in it instead of just a stock cube. With fresh vegetables. Finally a healthy meal on the table.Even the two toddlers should not be urged to eat.
After dinner, we discuss what we should buy, and then mom and I go out again. We buy basic food but also some meat and some chicken. The meat and chicken are frozen in small portions so that some meat regularly appears on the table for a while. Flour is also bought so that mom can bake her own bread again.
 That costs less, is healthier and now that there is gas again, it is possible again.I feel very happy. It is wonderful to see how the atmosphere in the family has changed. There is hope again, there is laughter again, and all thanks to the help of people very far from here. The father thinks it's incredible that people care about them so far away. He asks me to thank you a thousand times, but I also want to thank you. The sun shone today, outside, but also in our hearts. It was a beautiful day.
————
UPDATE January 25, 2022 8.56 pm – the structural solution​
Over the next 48 hours, we received so many donations for this family that we were able to work on a permanent solution. An oven so that the mother can bake bread and cookies at home. So that the family can sell them and earn extra income. From now on, they will be able to provide for their family themselves.————- Message from MarrakechTwo days of walking back and forth between shops. Two days of looking at ovens, checking quality, comparing prices, haggling, doubting… But we found the perfect oven for the home bakery. And then another day out, shop-in-shop again, hunting for baking molds and other necessities and looking for the best price for flour, oil, sugar, and a lot of ingredients. But it worked!This morning I woke up to a wonderful smell pouring into my bedroom.Why does the smell of freshly baked bread make a person so happy? But this time it was really special I knew, it is the bread that was baked with the help of many, bread that could only be made thanks to many gifts.I have breakfast at the neighbor's, delicious bread with jam for me, bread with olive oil for them. We are quiet for a while, but then we are happy again. The mini-company can start. Still on the program today: try out cakes and calculate the cost price. Tomorrow cookies will be baked. In Morocco, no party goes by without a large stack of cookies, so they have to come. Just a little patience and it can be sold and then a new future will be open for this family.Today it is a gray day outside, but inside the atmosphere is boisterous. When we tasted the cakes, it started to rain outside, and then it was all party! The kids rushed out to stand in the rain, they loved it as much as the kids do with us when it snows. Even mom and dad had to go outside to enjoy themselves.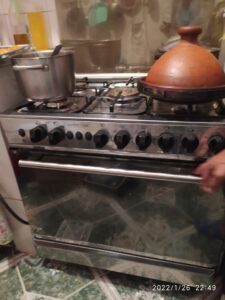 Still strange to me though. But for them that was the icing on the cake, their first baking day that was blessed with rain, they will never forget that.The atmosphere has just completely changed. First fear and despair, now hope and faith in the future. Apparently, the children notice it too because they are much happier and less troublesome. The last few weeks have been different. This is truly a successful fundraiser.———-