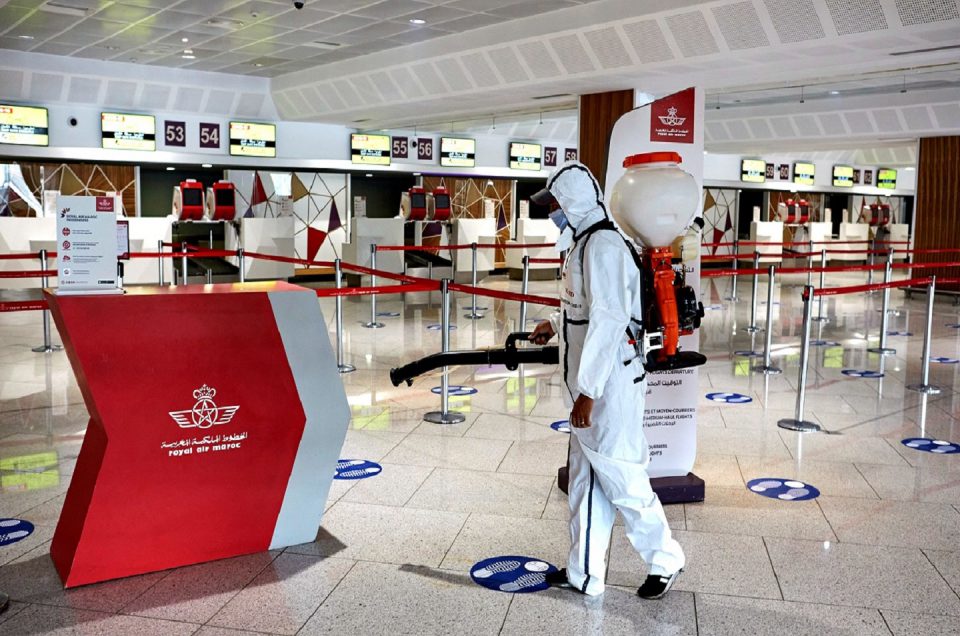 Frequently Asked Questions about traveling to Morocco and COVID-19
Can't wait to visit beautiful Morocco, but curious about the current situation? Below is the FAQ – Everything you want to know about traveling to Morocco and COVID-19. If you are missing anything or want more information; do not hesitate to contact us! We will gladly help you out
This page is last updated on 21 October 2021.
The Moroccan borders reopened on June 15th, 2021. Unfortunately, a new flight ban was imposed on October 20. Flights between Morocco and the Netherlands, Germany, and the United Kingdom have been suspended. How long this will take is still unknown.
Also, make sure to always check the latest official information from your home country and Morocco before you travel.
Last July we made the journey from Europe (The Netherlands) to Morocco ourselves. You can about it over here
What do you need to enter Morocco?
Morocco will be open for travelers starting June 15th.
What you need to enter is:
Country of departure
You need to be from a List A country. Overall; Travelers from the US, Canada, and Europe. Except for Spain, Portugal, France, Kazachstan, Latvia, Lithuania, Russia, and Ukraine are free to enter. Unfortunately, a new flight ban was imposed on October 20. Flights between Morocco and the Netherlands, Germany, and the United Kingdom have been suspended. How long this will take is still unknown. So you can still fly to and from Morocco, but not via these 3 countries.

For the close readers: this is List B. People from countries of List B can only enter under special circumstances and are submitted to a 10 day quarantine period upon arrival.
Vaccination of negative PCR-test
If you have not (yet) been fully vaccinated more than 4 weeks ago; then you need a negative PCR test taken a maximum of 48 hours before arrival [source: https://www.diplomatie.ma/en/faqs-resumption-flights-and-morocco-starting-tuesday-june-15-2021]
People who have been FULLY vaccinated with AstraZeneca, Sinopharm, Sputnik, Pfizer/BioNTech, Janssen, Covishield, Moderna, or Sinovac more than 4 weeks ago can (with a valid vaccination certificate) enter Morocco without a PCR test.
Declaration of health
In addition, you must complete a health declaration before arrival. We hand these over to our travelers in advance.
How is the situation in Morocco?
The situation in Morocco is improving. Morocco is busy when it comes to vaccinations. There are still fewer infected and sick people than in the US or Europe. This is the official overview (in French) of the Moroccan situation.
Cafes are on 50% capacity. Hotel and transport on 75%. No gatherings with more than 50 people are allowed, unless you get permission.
Are face masks mandatory?
Masks for vaccinated people are not mandatory. But for others, they need to wear a mask
Can you travel free around the country?
Tourists are free to travel around the country. Keep your vaccination certificate and your identity papers with you at all times.
Are all tourist places open?
Yes, all the monuments, museums, gardens and other sightseeing places are open.
Is there any curfew?
No more curfew right now for vaccinated people
What is done to safeguard that I'm not infected?
The COVID-19 crisis is under control in Morocco and 80% of the people are vaccinated. Morocco is the least infected country in the whole area.
How is the vaccination progressing in Morocco?
It is going steady and surely, so far 80% of the population is vaccinated and the program is still going on
How high are the risks of getting COVID in Morocco?
Very low: 5%. If you look at the international COVID-19 dashboards you will discover that Morocco is having less infections and deaths then the US or Europe. And the vaccination program is making good progress. It's in green zone "A".
If I get COVID-19 in Morocco; what is the healthcare like?
You will need to go in quarantine. The health care will take good care of travelers.
What are the guidelines I need to follow in Morocco? Is there any form of social distancing? And other guidelines?
Practise social distancing, wear the mask in public areas and wash your hand frequently. If you are vaccinated then you will be just fine.
Are tourists welcome again in Morocco?
Yes, after 15 June all tourists are very welcome again. We are happy to see you!
What will Travel Magical Morocco do to ensure I have a safe and enjoyable trip?
Travel Magical Morocco will conform to all safety measurements and guidelines of the Moroccan government. Such as; practicing social distance. Make sure that in the vans and other means of transport only half of the travelers are seated so we can practice social distancing. Also in the riad and hotels only half of the rooms will be booked.
We do our best to keep you informed as best as possible about the situation in Morocco. For example with the help of this FAQ – Everything about traveling to Morocco and COVID-19. If anything changes regarding the situation in Morocco we will update you right away. If this change implies a change in your itinerary we will discuss the impact and work with you on an agreeable solution.
In addition, we help you with your travel preparations; like reminding you of your PCR test and adding (re-usable) facemasks to your luggage list. Check-ins in the hotels/ riads will be done as safely as possible and we will keep a close eye on all travelers. And we make sure you will enjoy the beauty of Morocco.
We also try to help the people of Morocco. You can read more about that below.
Any other things to take into account?
Just take care of yourself and enjoy your trip
What we do for the local people
As you may already know, Morocco is very dependent on tourism. Not just the hotels. Riads, guides, and all drivers depend on it. But also the craftsmen who sell their goods to tourists. The shepherds who sell animals from their herds to restaurants, and all their families suddenly see their incomes plummet or disappear. The Moroccan government offered some support in the beginning. But it's not much.
From Travel Magical Morocco we help in 2 ways:
we have set up a crowdfunding campaign. This way you can directly donate money that goes to the people in the mountains. So that they can provide for their basic necessities.
In addition, we have set up a webshop: HelpLocalwithLove where we sell stuff from the craftsmen who normally sell to tourists. With this webshop, you get a nice product and you help the people in Morocco (or Sri Lanka; from which we also have items in our range).
My question isn't answered yet
Do you miss information in our FAQ – Everything you want to know about traveling to Morocco and COVID-19? Or want to raise another question? In that case: very simple; just ask! [email protected]